Its the San Diego Animal Support Foundation's Annual "Dog Days of Summer MEGA Pet Adoption EventTM", featuring 26 animal rescue organizations and more than 300 adoptable pets, including dogs and cats, puppies and kittens ....all in one outdoor location at Grossmont Center! This annual event fills up the inner corridors of Grossmont Center with adoptable animals.....from Target all the way down to Walmart! This team is on a Mission from Dog, and we're looking for serious adopters only!


The SDASF organizes annual mega adoption events in order to increase adoptions from reputable shelters and rescue agencies by bringing potential adopters and lots of dogs together in one fun, happy, stress-free environment, facilitating the matchmaking process! The participating adoption agencies are given free booth space to feature adoptable animals, and admission is free to the public! #OnAMissionFromDog #EveryAnimalHasAStory.
For more information, contact the San Diego Animal Support Foundation at Info@SDShelters.org, sdshelters.org or (619) 847-8755.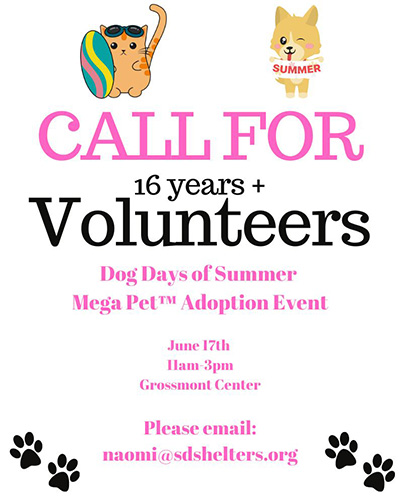 Volunteers interested in working at this event may contact our volunteer coordinator at: Naomi@SDShelters.org. We accept volunteer groups, those needing community service hours, and individuals just wanting to make a difference, even if just for one day! We prefer volunteers who are 16 and over, but will consider younger volunteers with careful parent supervision. *The San Diego Animal Support Foundation is a 501c3 non-profit organization with a primary mission to increase pet adoptions from reputable shelters and rescue agencies in our network.