Cupids & Canines ADOPTION EVENT 2014

Update: 200 adoptable dogs came and approximately 75 were adopted! That's a fantastic outcome for the day!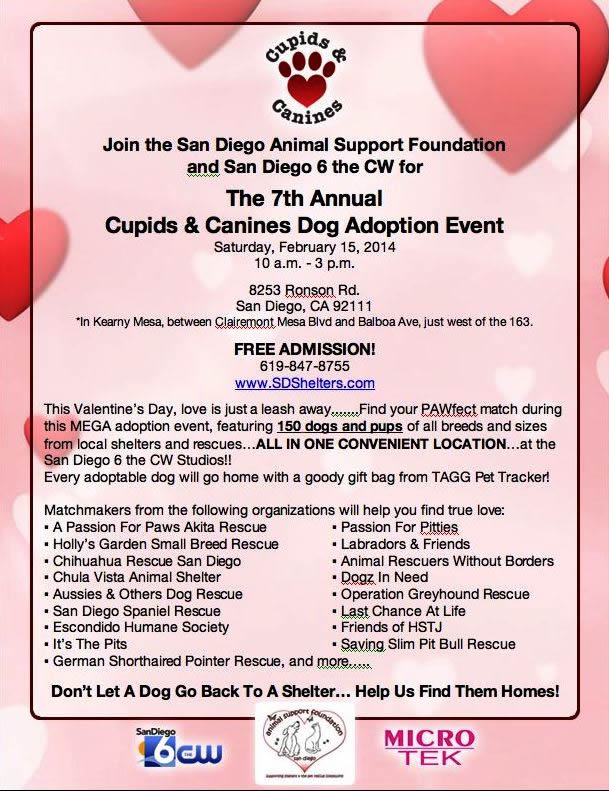 Video** More Information ** Flyer **
Radio Commercial (30 seconds) ** Radio Commercial (60 seconds)

Mark your calendars:
San Diego Animal Support Foundation Announces
7th Annual CUPIDS & CANINES DOG ADOPTION EVENT
Saturday, February 15, 2014 10 a.m. To 3 p.m.
In the XETV San Diego 6 -The CW Animal House Backlot 8253 Ronson Rd. in Kearny Mesa (Off the 163 between Clairmont Mesa Blvd & Balboa Av)
A one-stop-shop to meet 120+ dogs from local shelters and rescues.
KIFM & KSON to broadcast live from the event.
Watch San Diego 6 -The CW Animal House for more details.

Participating Organizations:
Dogz in Need ** Friends of Humane Society of Tijuana ** German Shorthair Pointer Rescue ** Holly's Garden Rescue ** It's The Pits ** Operation Greyhound Rescue
Last Chance At Life Rescue ** A Passion for Paws Akita Rescue ** Passion For Paws Pittie Rescue ** Saving Slim Pit Bull Rescue ** San Diego Spaniel Rescue ** Aussies & Others Dog Rescue ** Escondido Humane Society ** Chula Vista Animal Shelter ** Animal Rescuers Without Borders ** Chihuahua Rescue San Diego
** Labradors & Friends Rescue

(All adoptable doggies will go home with doggie bags with certificates/treats/sample foods, products, etc...please have vendors contact us to donate goods for the bags)

*note to participants: there will be access to bathrooms, water for dogs, a food and beverage vendor will be on site. Volunteers will be available for help with set up/tear down and potty breaks

Thank you to pet-friendly San Diego 6 -The CW Animal House for hosting this years event and for featuring adoptable pets on morning news every day for the past 13 years!