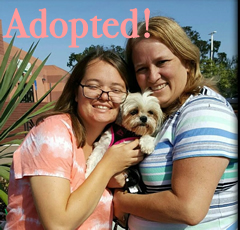 Sally was featured on San Diego 6-CW Animal House!

Name: Sally
Organization: Maltese & More Rescue
Phone: (858) 349-5918
Website: http://www.adoptapet.com/maltese-more-rescue/
Don't you just love seeing so such happiness....

These two searched high and low, taking their time to adopt just the right dog to fit into their home. Sally took center stage at our adoption event at Petsmart La Jolla Village Square and was adopted by Chris and Karlie. We love seeing such an awesome connections with our adopters and pups. Another happy beginning!